---
Trust in our own skills. The art of simplicity, the courage to be creative, with a sense of what is important. In the conviction of working with the right producers. Gladly from the region. Always seasonal.
---
Manuel
Reheis
Head Chef
Enthusiasm | Indulgence
… gives the Broeding its unadulterated taste and perfect craftsmanship. His cooking reveals the essence of products, they are the focus of his work. He is passionate about regional ingredients, looks for


>>
hidden pleasures with products that he has got to know and tried himself. Full of courage and enthusiasm for new unusual combinations of flavours, he strives to present the authenticity of every single product. From a culinary perspective, he looks for little tucked away roads off the beaten track that sometimes take him to his final destination via a few detours. At the end, he finds unique | fresh | tasty highlights.
Gottfried
Wallisch
Founder
Experience | Development
… he founded the Broeding 25 years ago and has protected it from standing still in any shape or form. Turned it into a place that reinvents itself time and time again and yet has also never changed.
>>
As a sommelier, his specialism is Austria's wines, which still give the restaurant its distinctive profile today. There is a lot to discover, which is why you can find him at winemakers, in vineyards as wine is so much more than just a suitable accompaniment to food. He knows the stories behind the wine, the winemakers' faces and therefore brings the origin of every wine to life in the glass. Just like all independent | sensual | sensuous relationships that food and drink can actually enter into.
Matthias
Hegele
Sommelier
Curiosity | Excitement
… bringt sein Wein-Wissen behutsam mit den Vorlieben des Gastes in Einklang, er stellt eine eigenständige Weinbegleitung vor, die den persönlichen Geschmack des Gastes mit einbezieht. In der Küche lässt sich Matthias von den Komponenten der


>>
Gerichte inspirieren. Seine Speisenbegleitung spannt den Bogen, der sich über den Abend erstreckt, und die Gerichte entweder befeuert oder mit ihnen in Diskussion tritt. Souverän I ruhig I fokussiert in seiner Arbeit, ist Matthias ein absoluter Genussmensch, der das Broeding bereits als Gast sehr geschätzt hat, und sich mit dem Wechsel als Gastgeber nun seinen Wunsch erfüllt hat. Und was kommt bei Matthias privat ins Glas? Er ist Fan von gereiften Weinen, deutschen Rieslingen und den Weinen der Steiermark.
Michael
Razfar
Service
Harmony | Organisation
… is the typical Bavarian with Iranian roots in the team. The qualified business engineer is an organisational all-round talent who can
>>
fill in | take over | moderate anywhere. With his love of wine, he's in just the right place at the Broeding. He's the communicative one, he really enjoys large tables in restaurants - often a challenge for service. Michael makes everyone feel as if they are getting a personal service, however large the group is.
Michael
Wendlinger-Iwan
Service
Action | Imagination
… is a valuable enrichment to the Broeding team. As he creates the non-alcoholic drinks to accompany the food in the restaurant -
>>
after several years as a barkeeper and co-manager of the legendary Iwan's Bar in Munich. Besides his excellent drinks creations, he supports his colleagues and fills in anywhere urgent help is needed. Fast | skilful | helpful. When he's not on the road as a long-distance runner or climbing with the Huber brothers. As standing still is not his thing.
Serdar
Ilter
Service
Routine | Tradition
… has two culinary lives, the first one at Preysingkeller, the second at the Broeding. All or nothing, half measures are not his thing.
>>
The trained chef from Baden-Württemberg is always in demand with colleagues when it comes to culinary classics as he is particularly knowledgeable about these. But service is also his playground. He confidently | charmingly | expertly allays any of the guests' uncertainties. A grand seigneur of the old school.
Stefan
Weis

Chef
Vegetarian | Concentration
… is probably the only chef in Munich who works with meat but follows a purely vegetarian diet himself. Not a contradiction for Stefan.
>>
Calm and concentration are his strengths, which are important in the fairly small kitchen at the Broeding. Quiet | concentrated | focussed. He is often referred to as "a rock" in stressful situations. His passion: grinding knives until they're really sharp.
Alex
Kühn
Chef
Authentic | Hot
… was the first apprentice at the Broeding. Following several other positions, he came back here again. And has now been at the restaurant for 15 years.
>>
In terms of cooking he likes things meaty | spicy | unusual and is also known to drink fish sauce for breakfast now and again. A chef's most important tool? His knife. Not surprising that Alex is into Damascus steel.
Julian
Fritz

Koch
Enthusiasm I imagination

…seine Küche kennt keine Grenze. Julian hat nach seiner Koch-Ausbildung in München in den unterschiedlichen Küchen in Frankreich und in Italien gearbeitet.
>>
He particularly likes peppers and chillies. Being a chef is the only real profession for him because he loves the variety and can enjoy three directions at the same time: slaughtering, cooking, baking.
Anton
Karnbaum
Koch
Ernsthaftigkeit | Weitblick
…wußte ganz genau, wo er nach der Kochschule in Italien, den Praktika in der Sternegastronomie und 2 Semester Chemiestudium hinwollte. In eine Küche, die Wert auf hochwertige Produkte legt, sie in den Mittelpunkt stellt - ohne sie groß zu verändern
>>
Die Probearbeit bei uns im Broeding hat Anton bestätigt. Arbeiten nach den Slow Food Kriterien, ernsthaft, vielseitig und in einer entspannten Atmosphäre. Köche mit ganz unterschiedlicher Ausrichtung, die für ein bis zwei Gerichte verantwortlich sind. Keine lauten Ansagen, selbständiges Arbeiten mit Feedback und Unterstützung der Kollegen.
Viel Freude macht ihm die Nachspeise, schon mit seiner Oma hat er Torten und Plätzchen gebacken, sein Lieblingsposten ist die Patisserie.
Aber natürlich bringt Anton auch ein bisschen Italien ins Broeding, mit selbstgemachter Pasta und Risotto.
Er kommt aus Franken, seine Eltern haben eine Fischzucht, mit kleinem Bistro. Dort sieht er für sich eine Zukunft. Doch bis dahin bereichert und ergänzt er das Broedingteam.
Clemens
Huber

Koch
Kreativität | Enthusiasmus
…hat schon als Kind gekocht, und seither eigentlich nicht mehr aufgehört. Nach Praktika und Ausbildung als Koch entdeckte Clemens auf seinen Reisen die südamerikanische Küche für sich. Sein absolutes Lieblingsgericht: Ceviche.
>>
Zurück in München rückten für Clemens heimische Produkte in den Fokus, die er jedoch in ungewöhnliche Zusammenhänge setzt, mit frischen Kräutern und Gewürzen neu interpretieren will.
Kreativ sein, sich mit den Kollegen austauschen und dabei Neues entdecken, gleichzeitig sich selbst einbringen, Impuls geben können. Das alles macht für Clemens die Arbeit im Broeding aus, deshalb ist er hier genau richtig.
Davina
Dehner

Auszubildende
Kreativität | Offenheit
… Spaß, eine gewisse Herausforderung und jede Menge Kreativität machen für Davina die vegetarische und vegane Küche aus.
>>
In ihrer Familie wurde viel gekocht und gerne gegessen, weshalb sie bereits in der 1. Klasse selbst zu kochen beginnt. Und seither dabei ist. Auch wenn sie eigentlich nur die Wartezeit auf das Kunststudium mit Jobs in der Gastro überbrücken wollte.
---
With the conviction of working
with the right producers. Gladly from the region.
Always seasonal.
---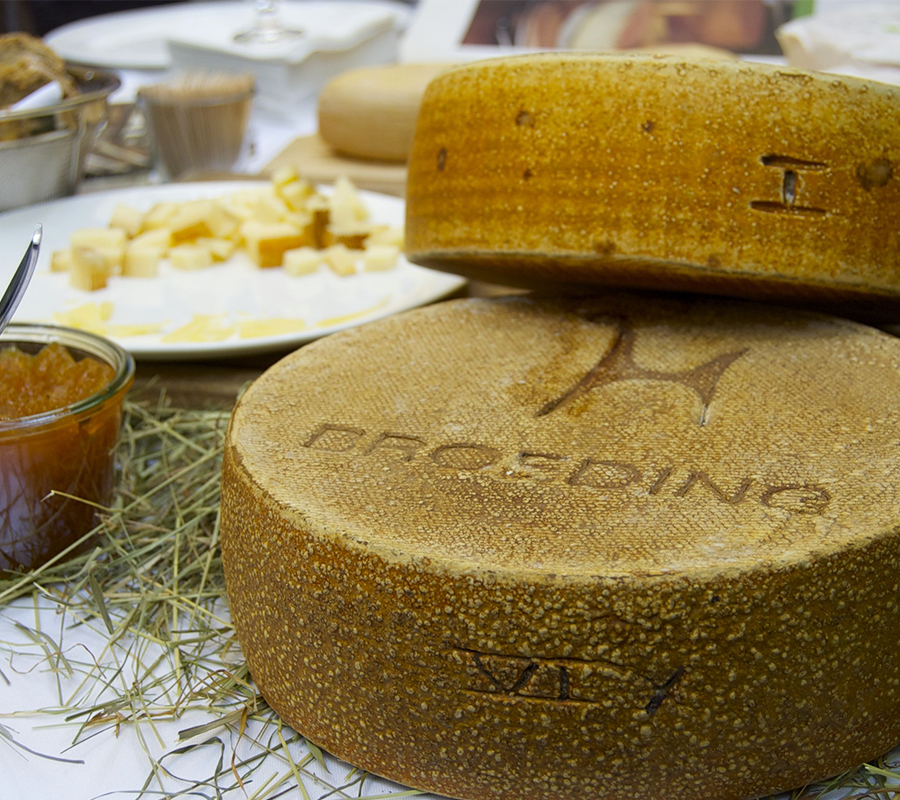 Our Dorli
Braunvieh | Cheese | Culture
… Dorli lives in South Tyrol on Alexander Agethle's Englhof farm. The two of them take care of the mountain cheese that is regularly the cheese course at Broeding with our label on it. A very special cheese and not just because it provides an intensive | spicy | full-bodied finish to our menu. It's the story behind the cheese that makes it really exceptional. The Agethle family has lived on the Englhof for more than 200 years, it encompasses 10 hectares, 9 hectares of it grassland and 1 hectare of crops, everything is farmed organically. Agethle offers sponsorships for his cattle, you can adopt an animal for €500. This sponsorship is primarily ideal support for the business and a contribution towards strengthening organic farming in the Upper Vinschgau, Dorli's home.
>>
There is a certificate for the sponsored animal, you can visit it on the farm and taste the cheese of course. As if that's not enough. Agethle has financed the rebuilding of his cheese dairy through the "Englhörner crowdfunding" project to make Dorli's cheese even better. For an investment of €500 there were 110 so-called "Englhörner" that can be swapped for cheese. You get 200 grams of cheese per Englhorn, so 22 kilograms of the finest unpasteurised cheese per investment in total. The kind of project that really appeals to us. Taking responsibility together, indulging together. If you like the taste of Dorli's cheese just as much and would like to be a sponsor, we will be happy to put you in touch with the Englhof.
Gardening
Freshness | Vitality
… the aim of our kitchen and our chefs is to prepare fresh and healthy food without long transported distances, intensive farming and insecticides for all our guests. In order to be able to select and decide how to grow our "greens" as much as possible ourselves, we grow our own vegetables. It was simply important to us to get vegetables that are as local | fresh | organic as possible. We have planted many old, low-yielding but all the more tasty varieties in the glasshouses. Since then, the tomatoes, courgettes, aubergines, peppers, chilli and many more have been grown by us in organic quality.
>>
You can't get fresher and more seasonal ingredients.